The Shillong teer calculator will help to calculate the Shillong teer's House and Ending target.
What is Teer Calculate?
The Teer Calculator is a valuable tool designed to assist players in the popular archery-based game of Teer. It simplifies your calculations and saves you time, enhancing your gameplay experience.
What is the benefites of Teer Calculate?
1. The calculator simplifies the process of calculating Teer House and Ending target, So it saves players valuable time.
2. Teer calculators provide precise calculation results, so no chances of miscalculations.
3. You can download the result by clicking the download button once it becomes visible on the screen. So you can share the result with your friends and social media.
4. Teer Calculator enhances the overall gameplay experience.
How to use teer Calculator?
Using the Teer Calculator is very easy; anyone who knows the game can use it effortlessly.
Step-by-Step Guide:
1. Find the first round result: For example, let's say the first round result is 64.
2. Find the second round result: In this case, the second round result is 17.
3. Add the current year number: As the current year is 2023.
4. Add the first round result again which is 64.
5. Same add the second round result again which is 17
6. Add the current date: Since today's date is 27, add this to the running total.
Get the latest House and Ending target
Calculate the final figure: The total figure after following the above steps will be 64172023641727.
Now, you need to input this value (64172023641727) into the text input provided and click the "GET RESULT" button. The Teer Calculator will automatically calculate the target for you.
You don't have to go through the manual and lengthy process; the Teer Calculator saves you time and effort. Start using the best Teer Calculator now and make your calculations simple and user-friendly. Even you can download the result after the calculation on your mobile and computer using the download button.
---
In the below image, you can see the outcome of the above-given example.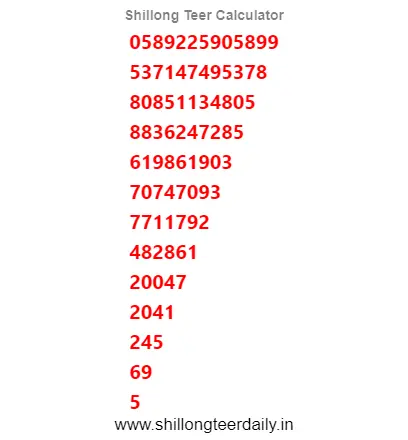 Conclusion
Ultimately, the teer calculator is the best tool for teer gamers, saving time, and the best part is that it's completely free.